NEW

Products & SPEcial deals
Duramax

11-16 LML MAF Bung

Billet aluminum MAF bung for 2011-2016 LML Duramax. The bottom side has a 4.5″ radius machined to fit any 4″ or 5″ tube and includes 2 stainless socket head mounting screws for the MAF sensor.

Cummins

2010+ 6.7 EGR Riser Fitting Kit w/Hose

Looking to clean up the passenger side of your engine compartment? This is the perfect part! Installing our Coolant Riser Delete fitting lets you completely eliminate the coolant lines running along the passenger side of your engine. This kit includes a CNC machined adapter, brass 3/4″ hose fitting, 48″ piece of 3/4″ silicone heater hose and hose clamp.

Fuel Systems

Retrofit Bottom Sump Bolt-In Conversion

Do you have a bolt-in style sump that leaks? This is the part that you have been waiting for! We have designed a clamp in type sump that will replace your current bolt-in sump or work as a new install. This sump will replace any sump that uses a 3″ hole in the bottom of your fuel tank and does not have a bolt pattern larger than 4.5″. From our research, this covers most every sump on the market. The o-ring on our sump covers the bolt pattern that was previously drilled during the bolt-in type sump install and creates a nice leak-free install.

Duramax

Duramax S300 Single Turbo Kit

G&R Diesel S300 Single Turbo Kit for Duramax. This kit replaces the factory VNT type turbo with a dependable S300 turbo which dramatically increases dependability and performance. These kits are available in a variety of sizes to meet your specific needs. When sized properly we see EGTs drop as much as 500 degrees at WOT. These kits are currently available for Duramax from 2001-2010. All tubing is CNC mandrel bent and tig welded to optimize flow and ensure strength/dependability. These kit now come with our Billet Crossbridge and Billet T4 Pedestal! All parts included for install : 3″ Hot Side Tube, 3″ Cold Side Tube, 4″ Intake w/ Filter, Braided Stainless Oil Feed & Supply Lines, 3.5″ HX40 Downpipe with heat wrap, all boots, clamps and misc. hardware. Contact us for powder coating and color options. ** Turbo is sold separately **

Cummins

6.7 Cummins IAT Bung

Billet aluminum IAT sensor bung kit for those of you that are making your own turbo piping kits on a 6.7 Cummins. This bung includes stainless socket head screws and is precision CNC machined. The bottom has a 4.5″ radius to fit nicely on any 4″ or 5″ pipe.

UPS SHIPPING
Most orders ship same day

Payment Options
We accept most major credit cards

PayPal Credit
We accept PayPal Credit

Get Discounts
We have discounts available
Fuel Systems

Bottom Sump w/ Integrated Return

Our Billet Aluminum Bottom Sump with Integrated Fuel Return System completely eliminates the need to run the return of your aftermarket fuel pump to the top of the tank or cut into the fuel filler neck, therefore cutting install time tremendously!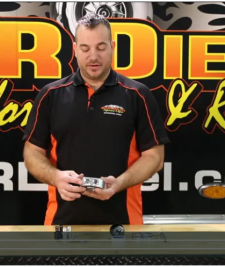 July 20, 2019
Uncategorized
Learn more about our Innovative Fuel Sump System and why so many have [...]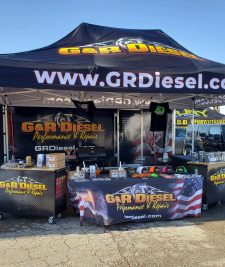 July 19, 2019
About G&R Diesl
We are one of the nation's leading performance diesel parts [...]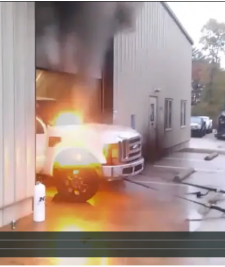 June 2, 2016
About G&R Diesl
We all love a good fire! Watch things light up at Dyno Day 2018! Wow! [...]